Giancarlo Palena, born in 1995, is a prize-winning Italian Accordion Player which started to study Accordion at the age of 7 with Mario Stefano Pietrodarchi, with whom obtained subsequently the Master degree in Chamber Accordion with magna cum laude.
In 2019 he graduated at the University of Music Frédéric Chopin in Warsaw, under the direction of Klaudiusz Baran.
He has performed as a soloist and in heterogeneous chamber ensembles at important theaters and concert halls, including Royal Festival Hall and Royal Academy of Music in London, Royal Opera House of Muscat, Teatro San Carlo of Naples, Academic Hall of the Fryderyk Chopin University of Music and the Royal Castle in Warsaw, Academic Hall of the Rome's Conservatory Santa Cecilia, Vatican Museums, Italian Institutes of Culture in Istanbul, Dublin, Bucharest, Stockholm and Hamburg.
In 2019 he won the 5th edition of the prestigious The Arts Club – Sir Karl Jenkins Music Award in association with Classic FM 2019. To him is dedicated a piece written specially by Karl Jenkins, titled Un chanson sans paroles d'un Film Noir."Among the numerous prizes obtained in national and international music competitions, in 2015 he was selected as the best Italian candidate to represent Italy at the 68th CIA World Cup, held in Turku (Finland), obtaining the third prize. In June 2016 he received the Medal from the President of the Italian Chamber of Deputies in recognition of the musical talent and his achievements at international level.
In 2018 he was a guest of the London Philharmonic Orchestra as part of the Foyle Future Firsts Ensemble's debut held in Southbank Centre, with music written in Theresienstadt concentration camp, by Viktor Ulmann (1898-1944).
In March 2021 he performed Gustav Mahler's 5th Symphony C sharp minor, in the reduction for chamber ensemble by Klaus Simon, with the Turin Philharmonic Orchestra, under the direction of Maestro Giampaolo Pretto.
In 2022 Giancarlo performed a Classical Accordion Solo Recital at the Royal Opera House of Muscat, (Oman), where he also held a Masterclass for the ROSO (Royal Oman Symphony Orchestra), conducted by Hamdan Al Shaely, playing the Concerto written by Astor Piazzolla, for Solo Bandoneon, String Orchestra, Harp and Percussion: Aconcagua, in its Omani premiere.
He attended many masterclass of high musical improvement in Italy and abroad with Yuri Shishkin, Miljian Bieletic, Owen Murray, Geir Draugsvall, Cesare Chiacchiaretta and Voijin Vasovic.
A versatile musician who extends his artistry over various musical genres, from baroque to contemporary, since few years he has also dedicated himself to the study of the bandoneón, helding myriad concerts in Italy and abroad, performing in Austria, Belgium, Canada, England, Finland, Germany, Greece, Ireland, Malta, Poland, Portugal, Qatar, Romania, Serbia, Sweden, Switzerland and Turkey.
From 2022, he is appointed Accordion Teacher at the Fausto Torrefranca Music Conservatory, Vibo Valentia (south Italy).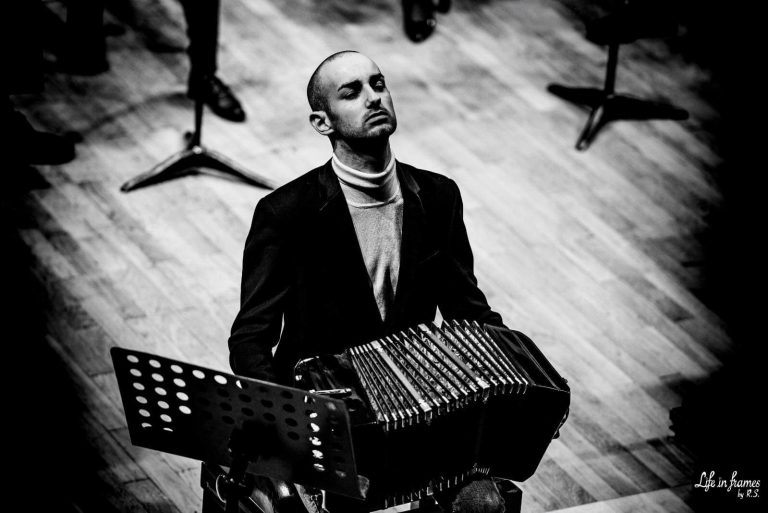 "Meeting and working with Giancarlo was an inspiration. He is a brilliant musician, an amazing player and a performer who knows what it takes to get the best out of everyone who performs with him!"
"Giancarlo Palena is one of the best representatives of the European accordion school. You can feel a beauty, harmony and expressiveness in his playing. He is the musician with a subtle and vibrant personality. I am always glad to listen his music."